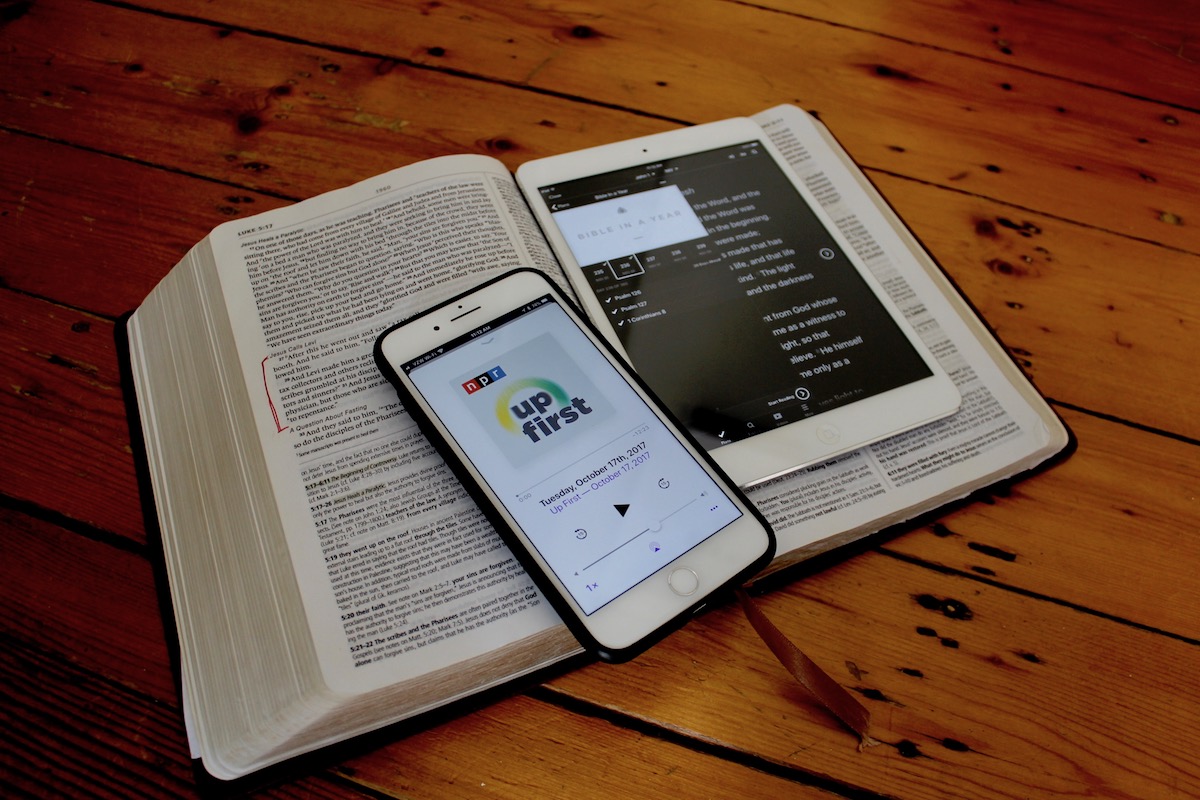 Tools
ESV Study Bible: This is my primary hard copy Bible for study and reading.

Journal: I write one page a day in a simple paper journal. I like this one from Greenroom that I find at Target (see link).
Patterns
Early Rising: I usually wake up at 5am. This gives me a full hour of quiet before anyone else is up. I have 3 hours each morning before I start work. It is glorious!

Personal Creative Time: While I love my job I have found it important to have side-projects that are completely my own choosing. From writing, to podcast editing, to coaching leaders, to traveling to lead worship. Many of my hobbies are ministry related, but I protect time to do the ones that are on my own terms.

Regular Days Off: There is nothing heroic about overworking. It is not spiritual. In fact not guarding time for rest is the opposite of spiritual. I regularly take 2 days off from my job and at least one from any ministry work.

Vacations on the Calendar: Balance is a unicorn. We subscribe instead to the idea of rhythm. There are seasons where we press in hard on ministry and times when we counter with seasons of rest. My wife and I have found it to be helpful to have our next "break" on the calendar, booked, and paid for. Sometimes that is a free getaway to the city, other times it is a family vacation to Maine. Either way, just having it on the calendar is part of our pattern.
Tools
Expensify: For my role with Berea I have a healthy amount of receipts each month for advertising to fuel or meals. Expensify saves me at least an hour every month. Open the app, snap a photo of the receipt. If it is a receipt received via email you just forward it to receipts@expensify.com and it ties it to your account based on the sending email address. I use the free plan.
1Password: For years I tried to organize my passwords in a spreadsheet. Never again! 1Password syncs and organizes all of my passwords, account numbers, pin numbers, etc., between my phone and desktop. It takes a little time to set it up at first but once you do it is an app you will use everyday and wonder how you operated before you did.

Asana: This free task management platform has proven invaluable. You can organize tasks by projects, set recurring tasks, and assign tasks to other team members who are using Asana.

Legal Pad: While I love apps I still write a daily to-do list on a pad of paper. I find the practice of writing the day's goals down keeps me focussed and accomplished when I get things done.
Patterns
Meeting Free Mornings: I have learned that my most focussed and productive hours are until around 1:30pm. When possible I plan meetings or calls in the afternoon. If I have a lunch appointment I try to make it a late lunch as it keeps my mornings free and most eateries are less busy at 1 or 1:30pm.

Tidy Workspace: A clean office and desk helps me stay on task. I am easily distracted and piles of paper or stuff pulls my mind away from what is at hand. I clean my office daily and try to leave the desk clear at the end of the day. I also clean my computer often, meaning I am intentional about file organization and don't use my desktop as a junk drawer.

Music to Focus: As a Spotify subscriber I love the Deep Focus playlist and Acoustic Concentration. Working from a home office there are times (usually afternoons once the kids are home) that the house gets noisy. A good playlist keeps me on point.

Project Urgency: As I have coached younger leaders and co-workers, especially in our organization where on a given day you might be working on tasks related to 12-18 months from today, I have started to understand that I force urgency on myself. What I mean is that I identify the mile-markers on a project, like running a conference, that if I don't hit I am behind. This sounds simple but I have learned it is one of my most important tactics so that I am not cramming and working 95 hours the week of an event. Often, event weeks are less stressful than 30-45 days out from a conference because that is when the real work has to be done.
COMMUNICATION & MARKETING
Tools
Mailchimp: Mailchimp is an outstanding email marketing platform. It features an easy to use, drag and drop, design interface that will even alert you if your photos are too large and shrink the file size right within the program. We have recently begun using their email automation side where you can build a stack of emails that are pre-scheduled to go out at whatever intervals you decide. Even as Facebook and other online platforms grow email is still the most powerful online marketing you can do with the highest rate of return.

Hootsuite: I use this popular app if I want to schedule any content to my personal social media channels (Twitter & Facebook).

Buffer: This is an outstanding and simple scheduling platform for Facebook Pages, Twitter, and now Instagram. I use this to manage the channels for Berea. We have the paid annual plan, but any nonprofit can receive 50% off which makes this a no-brainer.

Canva: This is a tool I use almost everyday. I love basic design but I am not proficient at InDesign or Photoshop. Canva is basic graphic design made easy. They have preset templates for common files like Instagram graphics, Email headers, Facebook covers, etc,. They even allow you to upload your brand colors, fonts, and logos so those are all at your fingertips. They also have a mobile app but the desktop browser experience is much stronger.

Over: For quick mobile photo editing where I want to drop a logo or text onto a picture, this is my go to app.

Squarespace: This website is built on Squarespace. While I use Wordpress for some of my other sites (Berea, Simply Worship) it is hard to beat the simplicity of Squarespace. I setup my personal site and had it live in 24 hours.

Touchnote: While I do not use this mobile app often what it does can be a crazy way to make a big impression. Just upload a picture and for a small fee you can send a postcard in the (physical) mail. In the increasingly digital world there is something profound about a student or leader getting an actual postcard in the mailbox. It is a great way to do Thank You notes.

Social Media Shared Folder: I have a Dropbox folder called "Social" that is where I stash any great photos or graphics so that if I need to do a quick post on one of our programs I have a repository of ready to fly content.

Online Photo Database: Great photos are one of the absolute best tools you can have to share your story. It is also one of the areas you are most likely to find others who can help. At Berea they were already using Flickr as their online database of photos when I joined their staff. It is a solid solution. Personally I like Google Photos which has powerful search features. Either solution allows anyone in the organization upload photos that I can grab and use for promotion and communication.

Free Stock Images: places I source no-cost royalty free stock images

Free Fonts: places I source free fonts

Inexpensive Royalty Free Music: great for videos, podcasts, etc,.

Music Licensing for Video: use popular songs for your videos

Utilities

BatchGeo - Take addresses or zip codes from a spreadsheet and create an interactive Google Map of all the locations

Zamzar - convert files. This is like a swiss army knife for files. Have a windows media file you need to play on a Mac? Upload it and they will email you a file converted to whatever format you want.

KeepVid - rip video or audio files from YouTube
Patterns
Good Communication Builds Trust: For better or worse many people will judge the credibility of your organization based on how you look and sound. Do the best with what you have but always look to learn and improve as you go. Avoid taboos like clipart or terrible fonts. Find people who have a passion for design, photography, video, and get them involved. At the same time you shouldn't fix everything at once. People appreciate progress!

See & Celebrate the Story: The better you can become at seeing and celebrating stories of great things God is doing in your sphere of influence the more you will engage others in your vision. Momentum builds as we show and tell how God is on the move.

Experiment: I try to always keep a start-up mentality. There will always be someone with more resources, more talent, more whatever. Don't lose the relentless focus on trying things out. Failure is progress if you can learn from it.

Connection Over Sales: Especially being from New England where critical and cynical thinking is a badge of honor people hate to be sold but love to partner. I always tell people even if you never come to my thing or buy our products I want to be your friend and help you.

Automate: Use tools that help you batch tasks like social media (See above Buffer, Mailchimp, etc).
Tools
Patterns
5-15 Reports: This is a weekly check-in for my teams that should take no more than 15 minutes to write and 5 minutes to read. There is a detailed overview via the above link.